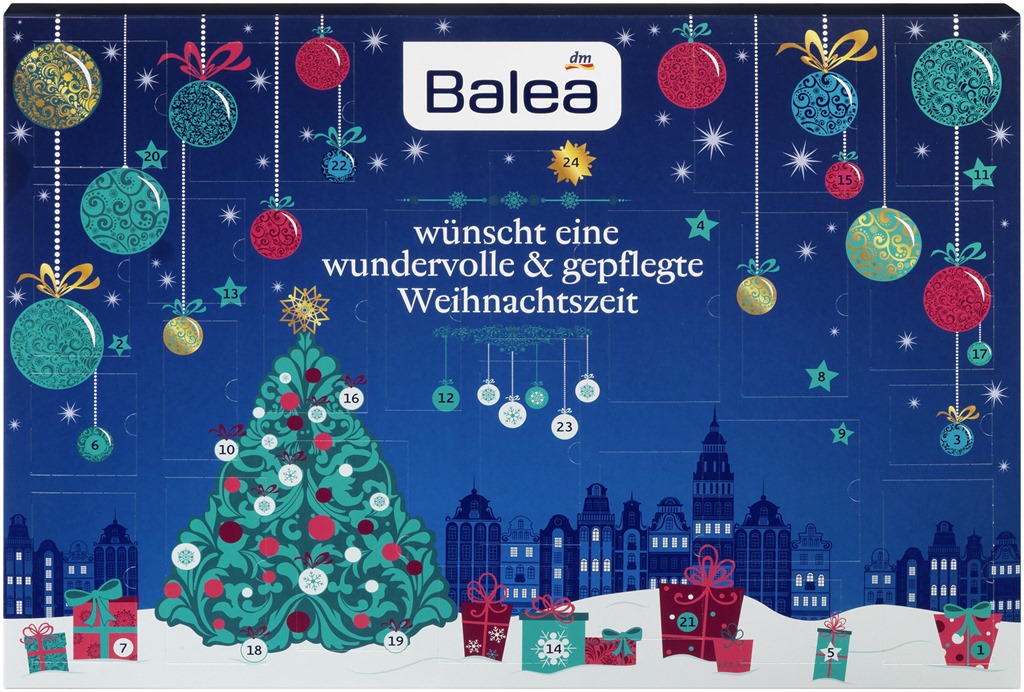 Today I wanted to show you what I got in my Balea Advent Calendar. I started posting what I got on Instagram but then my phone died and I wasn't able too, so I decided to post everything here. In the end is also a little giveaway!
If you don't know this tipe of calendars already, it is just like the chocolate calendar but with cosmetic products instead. First, I wanted to write a little first impression of every product, but I haven't tried everything yet. So these ones will probably be in my Empties posts.
1. Reichhaltige Bodymilk | 2. Washgel | 3. Anti-Falten Tagescreme Q10 | 4. Dusche & Creme Vanille und Cocos | 5. Anti-Falten Nachtcreme Q10 | 6. Seife Tannenbaum | 7. Fussbalsam | 8. Feuchtigkeits Shampoo | 9. Feuchtigkeits Aufbau-Kur | 10. Lippenpflege Sensitive | 11. Med Ultra Sensitive Intensivcreme | 12. Oil Repair Express Kur
13. Badeherz | 14. Pflegecreme | 15. Reinigende Maske | 16. Repair + Pflege Shampoo | 17. Beautiful Long 1-Minuten Intensiv Kur | 18. After Shave Pflege Gel | 19. Hand- und Nagelbalsam | 20. Badestern Bratapfel | 21. Intensivpflege Shampoo | 22. Milch & Honig Maske | 23. Dushce & Creme Limette und Aloe Vera | 24. Eau De Toilette Sense of Magic
I will write this in Slovene , because the giveaway is only for Slovenian readers.
Ugotovila sem, da nekaj stvari iz koledarja najverjetneje ne bom uporabljala, zato sem se odločila, da jih podarim mojim bralcem. Dodala sem še eno stvar, Makeup Revolution Fixing Spray. Pravila: izpolni spodnji Rafflecopter obrazec. Ni potrebno storiti vsega, imaš pa več možnosti zmagati. Ne pozabi v komentarje zapisati svojega e-mail naslova. Nagradna igra traja od 29.12.2015 - 8.1.2015, zmagovalko razglasim na blogu in tudi na moji facebook strani.
a Rafflecopter giveaway